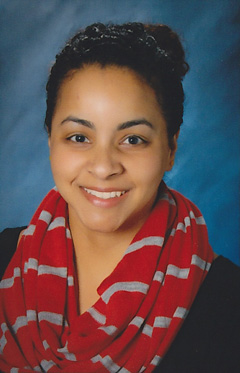 Nature lover and admirer of beautiful things, Yesenia Colón is not your typical second grade teacher. Her teaching talents started to take shape at a younger age when she would help her mother (a pro kindergarten teacher with over 30 years of experience) in the classroom whenever possible. These bloomed a bit more while enrolled in college where she routinely tutored fellow students in general math, algebra and speech.
Her college years did not follow a typical path either. She first majored in pre-med in order to become a dentist, but soon found out that organic chemistry and her produce the same chemical reaction you get when you mix oil and water. She switched gears and graduated with a Bachelors degree in Anthropology and a minor in Zoology. The plan – to become a forensic DNA analyst!
While earning her Masters degree in Forensic DNA and Serology Analysis (fancy terminology for bodily fluid analysis, but really, it's not as gross as it sounds) she took a job as a substitute teacher working in pre-k through 8th grade classrooms and worked numerous long-term assignments. The positive feedback from students, school staff and administrators reassured her that teaching (not those pesky bodily fluids) was her true calling.
For four years, she taught the Spanish component of second grade Dual Language at Kissimmee Elementary School in FL. After completing the teacher preparation courses and passing several exams she earned her professional educator's certificate. However, the most valuable teacher preparation resulted from working as a substitute teacher and her mom's expert advice.
During the next four years, she taught kindergarten Spanish Immersion at Bridger School and currently teaches second grade at Bridger School. Maestra Yesenia enjoys visiting local coffee shops, reading and hiking Mt. Tabor with her husband, baby daughter and dog.